"Flat" Fee of $49.99 + Parts |

FREE RETURN SHIPPING
You Have Options If Your Widmer Time Recorder Breaks!
When time stamps break, it's a common fallacy that you have to buy new ones.  This can easily become costly if you work in an office environment with dozens or hundreds of stamps.  A new Widmer time date stamp can cost anywhere from $700 and $895, depending on the model and where you acquire it.  However, the good news is that you have options before spending this money.
Widmer time recorder repair is a reasonably priced service at National Time Stamp.  This will save your organization a significant amount of money, especially if you use multiple stamps.  Widmer time stamp parts, including motors, year wheels, ribbons and the time stamp manual are also available for the do-it-yourselfer.  
National Time Stamp Has Widmer Time Date Stamp Repair
Our time stamp repair services cost $49.99 plus the cost of the parts. In addition we also include "FREE RETURN SHIPPING", so that you don't have to pay anything to get your Widmer time date stamp back in working order.
Fill out the repair form below to give us some basic information about the issue you are experiencing with your time stamp. We will determine the problem and contact you with an estimate to repair your date and time stamp machine.
Once accepted, you may either send the time stamp to our Authorized service center or, for an extra fee, we can email you a pre-paid shipping label and schedule a pick up.  After that, we'll evaluate your date and time stamp and get back to you with an accurate repair price.
Once you approve the repair, it will be chemically cleaned to remove the ink build-up. Any problems that you reported will be thoroughly fixed, and a new ribbon will be installed and tested. The entire process takes 24 to 48 hours.  
The Benefits of the Widmer Time Recorder
Accurate Timing- Durable Construction- Quality Impressions
The Widmer T-3 Electronic Time Stamp and the Widmer T-LED-3 Electronic Time Date Stamp are rugged, heavy-duty stamps with a solid metal case construction featuring high quality, clean, crisp imprints. It is compact and offers a wide variety of desirable features. It is a distinctive two-tone, light and dark gray finish that will complement the décor of any office.
The digital time display can be synchronized with the time print mechanism. Instant trigger operation – you just insert the paper. Quick ribbon change – no mess. A new, open throat and finger indent case feature allows for greater accessibility. Documents of letter-size or small tickets can be inserted with ease. The depth of the throat can be adjusted to allow a selection of imprint locations. Stamping pressure can be electronically increased to penetrate through multi-part carbon and non-carbon forms. Inscription plates can be added both above and below the time and dateline.  
Simplex discontinued the Model 1605-9001 date and time stamp series several years ago. Our service staff has the parts and expertise to fix these timestamps, ensuring years of trouble-free operation.
In conclusion… fill out the repair form below and get your repair estimate today!  For numbering machine information please contact www.widmertime.com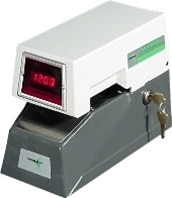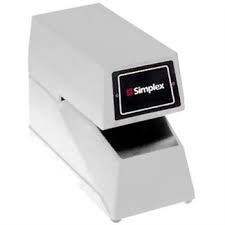 Get A Widmer & Simplex Time Stamp Repair Estimate