"Flat" Fee of $49.99 + Parts | FREE Return
Shipping
If Your Rapidprint Time Stamp Breaks, You Have Options!
One common misconception about time stamps is that they must be replaced whenever they break. If you're working in an office and need dozens or hundreds of stamps, this can quickly add up. A new Rapidprint Time Stamp can cost between $700 and $1000, depending on the make and model and where you purchase it. However, the good news is that you have options before you have to spend this money.
National Time Stamp offers a low-cost repair service for Rapidprint date time stamp machines. This will save your organization a lot of money, especially if you use a lot of stamps. For the do-it-yourselfer, Rapidprint time stamp parts such as the Rapidprint ARL-E motor, year wheel replacement, ribbons, and the Rapidprint time stamp troubleshooting manual are also available.
National Time Stamp Offers Rapidprint Time Stamp Repair
Our time stamp repair services cost $49.99 plus the cost of the parts. We also include Free Return Shipping, so you don't have to pay to get your time stamp machine back in working order.
Fill out the repair form below to provide us with some basic information about the problem you're having with your time stamp. Based on this information, we can accurately estimate which parts will be required for your repair, which will be added to our "LOW COST FLAT FEE" to calculate your repair estimate.
You may either send the time stamp to our Authorized service center or, for an extra fee, we can email you a pre-paid shipping label and schedule a pick up.  After that, we'll evaluate your date and time stamp and get back to you with an accurate repair price.
Once you approve the repair, it will be chemically cleaned to remove the ink build up. Any problems that you reported will be thoroughly fixed, and a new ribbon will be installed and tested. The entire process takes 24 to 48 hours.
Benefits of the Rapidprint – Time Stamp Machine
The Rapidprint time stamp is a popular choice among court systems, accountants, and other office environments where time-certified documents are critical to operations. Users benefit greatly from a variety of features.
The following are some of the most popular automatic date and time stamp models.
Rapidprint AR-E Basic Time Stamp
Let's take a look at some of the associated date time stamp machine benefits and how they help across a variety of applications.
Easy to use. You can simply insert the document into the opening of the Rapid Print time stamp, and get it printed with a date and other necessary certification info.
Efficient to operate. It's easy to stamp hundreds of documents within a short period of time.
Easy to read. The durable brass wheels on the interior of this time stamp provide an end result that's easy to read.
A rugged exterior. These machines are built to withstand heavier usage.
In conclusion…… get started by filling out the repair form below and get your repair estimate Today!  For numbering machine information please contact www.bidwellinc.com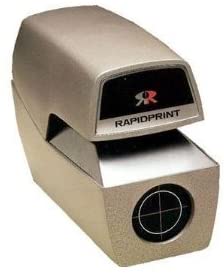 Get A Rapidprint Time Stamp Repair Estimate