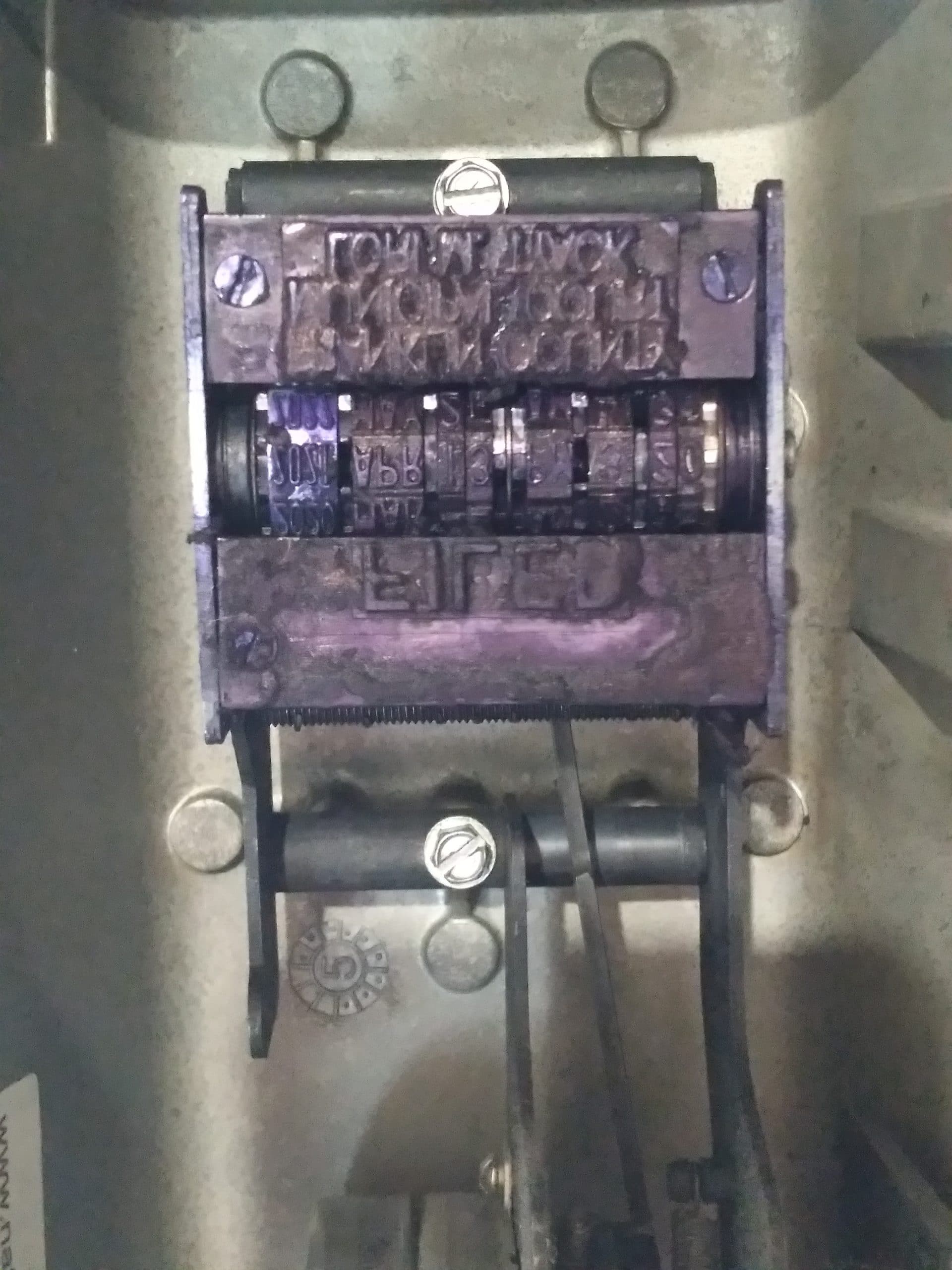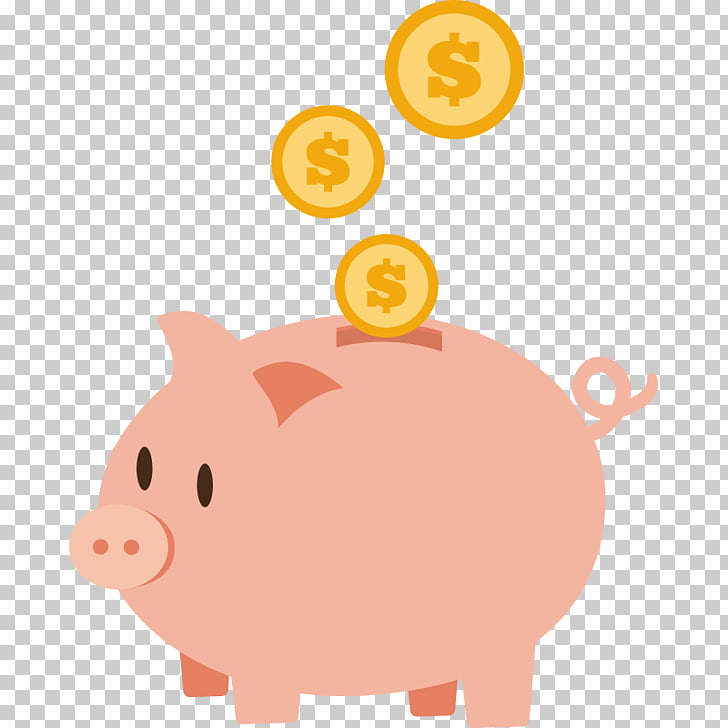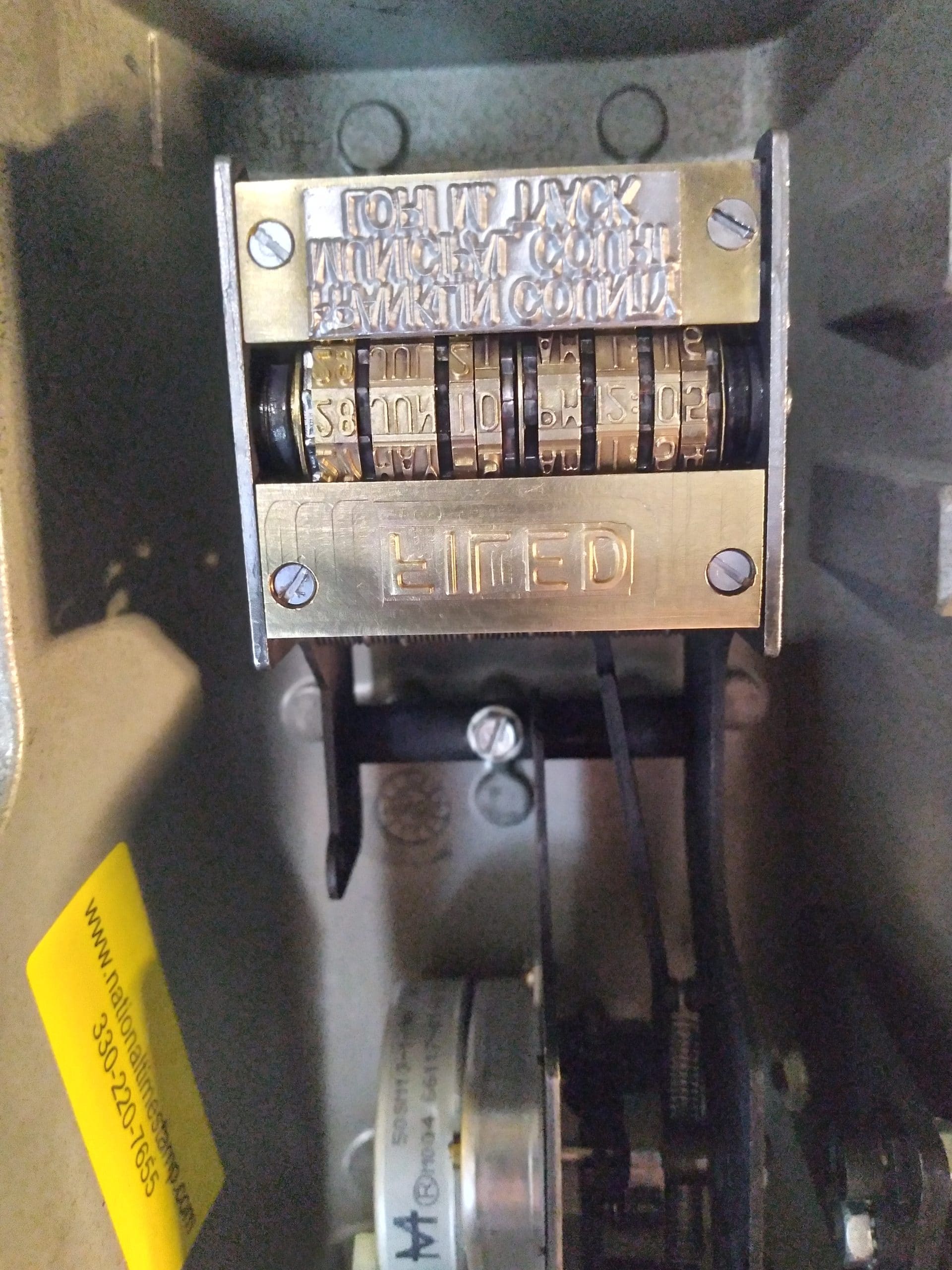 When your Rapidprint time stamp is not working properly, losing time, gaining time, not stamping or making a loud screeching noise WHO YA GONNA CALL?  NOT GHOSTBUSTERS !!! 
What should you do?  Buy a new time and date stamp machine at a cost of approximately $800?  Get it repaired?  By all means, get an estimate of repair and send it in for depot service.   There is NO way to get your time stamp looking and operating as in the after picture above unless it is depot repaired.
REASON #1. The heavy duty time stamp machine Rapidprint ARL-E and the Widmer time date stamp are built for 20 + years' worth of service.

  The best solution is to have the estimate and repair done at an authorized depot repair center.  Why not just call a service technician to stop out and repair the time stamp you may ask.  The

Rapidprint time stamp

and the

Widmer time date stamp

are mechanical time stamps that have a hundred or more mechanical parts most of which can cause the time stamp to malfunction and will need an experienced technician to evaluate, test, and repair the problem in

house.

REASON #2

. Depot repair involves chemically cleaning the typesection of ink and dirt build up, which can be a cause of the time date stamp machine to lose time, along with repairing the problem and testing for 24 hours for proper operation which cannot be done on site.

                                                                   
REASON #3

. Repairing these time stamps requires experience, patience, and as well as

several

adjustments for a proper repair which is very difficult to do on site.   In addition to being less expensive than paying for several trips to have a technician stop out and guess what the problem might be.
ON SITE REPAIR
On site repairs, if you can find a company that still has field repair technicians, charge for a service call plus travel time to your site.  If the technician has to come back because it's still not working properly and charging you for another service call, you are just paying for his time to make the correct guess as what the problem is and wasting your time and money.  
On site repairs are a guessing game…if the time stamp is losing time, put in a motor and see if that fixes it, is a common course of action.  Usually, that is not the solution but it's quick and easy and allows the technician to beat the traffic driving home, I know because I was in field service for 18+ years.
This brings to mind many years ago being a field technician I was trying to clean the type section with a rag and spray cleaner and as I was wiping up the ink spray from the table the rag soaked with ink fell onto the carpet and put a nice dark purple stain in a beautiful beige color carpet costing the company I worked for $325 to replace a section of very expensive carpet.  Moral of the story…don't use on site repair.
 WHAT PICTURE ABOVE IS YOUR TIME STAMP… BEFORE OR AFTER?                
The conclusion is short and sweet…. Have your time stamp depot repaired… it's a no brainer.  Your estimate of repair… 
National Time Stamp 30+ Year's Worth Of Expert Depot Service
        Our "Low Cost Flat Fee" of $49.99 + Parts and Free Return
                               nationaltimestamp.com  330-220-7655